Train like a professional pilot with our SIMCOM 360° program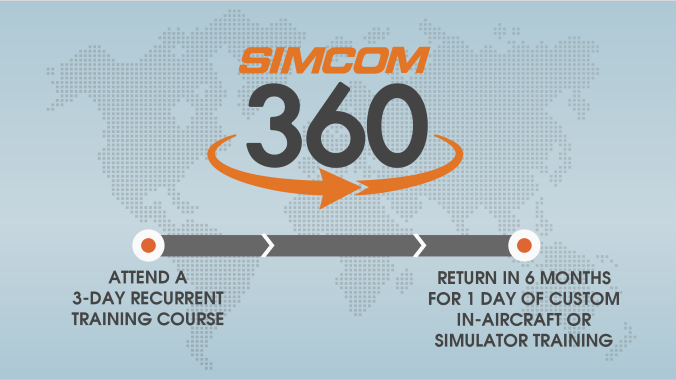 What can pilots do to keep those insurance rate increases as low as possible? Train more! Accidents in airlines have decreased dramatically in the last 10 years. Airlines require pilots to train every 6 months, and there's a reason for that—those pilots become more prepared. Train like a professional and sign up for the SIMCOM 360° Recurrent Training Event. Still debating on whether to do simulator or in-aircraft training, the SIMCOM 360° Recurrent Training Program allows you to do both! How does it work?
Once you sign up for your 2- or 3-day recurrent training event, you can book a follow up training session 6 months later. This second event allows you to customize your training event with exercises that will best suit your needs. Pilots can pick between 4 hours of simulator or 3 hours of in-aircraft. Some examples are:
Expanded Aircraft Preflight
Approach Procedures
Flight Review
Holding, Intercept & Tracking
IFR Proficiency Check (A/C only)
Normal Takeoff / Landings
Stabilized Approach Procedures
Short Field Takeoff / Landings
Use of the MOR Lever
Engine & Fuel Malfunctions
Slow Flight/Stall recovery
Pressurization Malfunctions
Emergency Descent Procs
Flight Envelope Protection
Automation Usage / Malfunctions
Landing Gear Malfunctions
Electrical Malfunctions
Contact our sales team and secure your next training slots now!