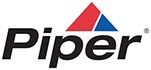 SIMCOM is the factory authorized simulator training provider for the Piper PA46 line of piston-powered single-engine airplanes. SIMCOM's PA46 simulator in Orlando closely duplicates the avionics configurations for most of the PA46 piston-powered fleet. In-aircraft training can be arranged in Scottsdale, Arizona.
Pilots of all PA46 airplanes can take advantage of SIMCOM's excellent instructor knowledge that is nurtured by the factory. For those customers desiring Piper training or orientation flights in the actual airplane, that can be arranged to enhance the simulator training experience. Malibu, Mirage and Matrix courses offered include a five day initial, a two day recurrent or an optional one day express recurrent for more experienced pilots.
Upon successful completion of your Malibu, Mirage or Matrix training you will receive a SIMCOM completion certificate for your appropriate Malibu, Mirage or Matrix simulator course, which is insurance company approved. Most Malibu, Mirage and Matrix training courses are taught with one instructor teaching a maximum of two students and with the same instructor providing both the classroom and simulator training. This allows your PA46 training to be tailored to your individual interests and needs.