SIMCOM Introduces Garmin Equipped King Air B200 Simulator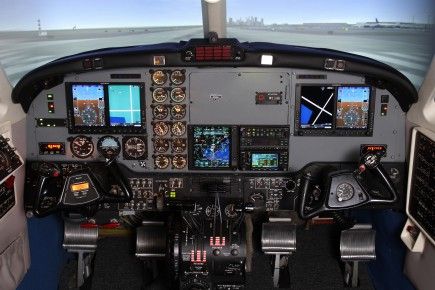 Published on July 12, 2015 -
ORLANDO, FL, JULY 12th, 2015 —SIMCOM Aviation Training is pleased to announce the addition of a new King Air B200 simulator. The simulator is equipped with dual Garmin G600 MDS/PFD's and the Garmin GTN 750 GPS//NAV/COM. The SIMCOM manufactured training device allows instructors to accurately simulate emergency situations and a variety of meteorological conditions. The comprehensive North American database gives customers the opportunity to train in the same environment where they operate their aircraft. The simulator is located in SIMCOM's Dallas Fort Worth Training Center.
"A growing number of King Air operators are upgrading their older avionics with glass panels and WAAS GPS" says SIMCOM's COO Mike King, "The G600's and GTN-750 allow us to provide training using an avionics suite that more closely resembles these upgraded cockpits."
Customers will be offered three day Recurrent, two day Express Recurrent, and five day Initial courses.
"Customers who operate glass equipped King Air's, particularly those upgraded with Garmin G600's and G1000's will immediately see the benefits of training on our new simulator." says Don Sowell, DFW Training Center Manager. "By adding or subtracting features on the G600 we can approximate everything from basic EFIS cockpits to a fully integrated G1000 suite. Our Garmin equipped King Air is an extremely cost effective training solution for King Air operators with upgraded cockpits."
Because the King Air 200 simulator is qualified by the FAA, customers will receive currency credit for instrument procedures and approaches. Flight reviews may also be completed using the FAA's WINGS Program.
SIMCOM Aviation Training offer professional pilots and owner/pilots realistic simulator-based training for a number of jet, turboprop and piston powered airplanes. SIMCOM currently operates 57 simulators in four locations – Orlando, Florida; Scottsdale, Arizona and Humberside, United Kingdom. Courses are available for initial and recurrent training. Speciality and maintenance training is also available. For further information, contact SIMCOM at 1.800.272.0211, or see SIMCOM online at www.simulator.com.