SIMCOM Upgrades Simulator Visual Systems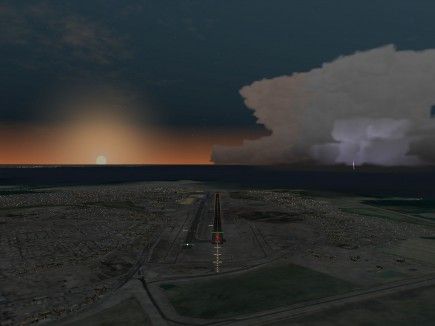 Published on July 30, 2013 -
OSHKOSH, WI EAA AIRVENTURE, JULY 29-AUGUST 4, 2013 – SIMCOM has recently upgraded the visual display systems on their Lear 35 and Hawker 800 full flight simulators. The enhancements now offer a vivid daylight training environment combined with real satellite imagery. Virtually any weather condition can be presented including rain, snow, lightning, fog, patchy fog and storm cells.
Visual imagery is generated by the new Redifun Simulation Inc. (RSI) raster extended terrain system. The image generator offers greater rendering of models for more realistic effects. The continuous earth real terrain system, an integral part of the RSI extended terrain system, provides the ability to experience real satellite imagery between airport models. The imagery is displayed through a Q4 Services fixed matrix projection system. The LED based projectors allow the customer to view the latest airport modeling with improved clarity and brightness. Through RSI's airport model currency program the airport environment is kept current with the real-world airports. "We will continue to invest in technology that improves our customer's training experience", states Eric Hinson, SIMCOM President. "A good visual display that accurately reflects the real world environment greatly enhances simulator based training."
SimCom has also upgraded the visual systems on a number of its FTD's including the King Air 350 Proline, Pilatus PC-12 NG, PC-12 Series 9, Socata TBM-700, Mitsubishi MU-2B-60 and MU-2B-35.
SimCom Training Centers offer professional pilots and owner/pilots realistic simulator-based training for a number of jet, turboprop and piston powered airplanes. SIMCOM currently operates 56 simulators in four locations – Orlando, Florida; Scottsdale, Arizona and Humberside, United Kingdom. Courses are available for initial, recurrent and refresher training. For further information, contact SIMCOM at 1.800.272.0211, or visit them on the web at www.simulator.maxburst.dev.
NOTE: A high resolution photo can be downloaded from the website at www.simulator.maxburst.dev. Click on the ABOUT SIMCOM tab at the top of the page. Scroll down and click on PRESS CENTER. Click on PHOTO GALLERY. The photo to be used is the last one in the 7th row. It is titled: Full Motion Business Jet Simulator Bay. If this picture is used, please add a photo credit to read: Photo by Ron Csuy, Director of Sales, SIMCOM Aviation Training.